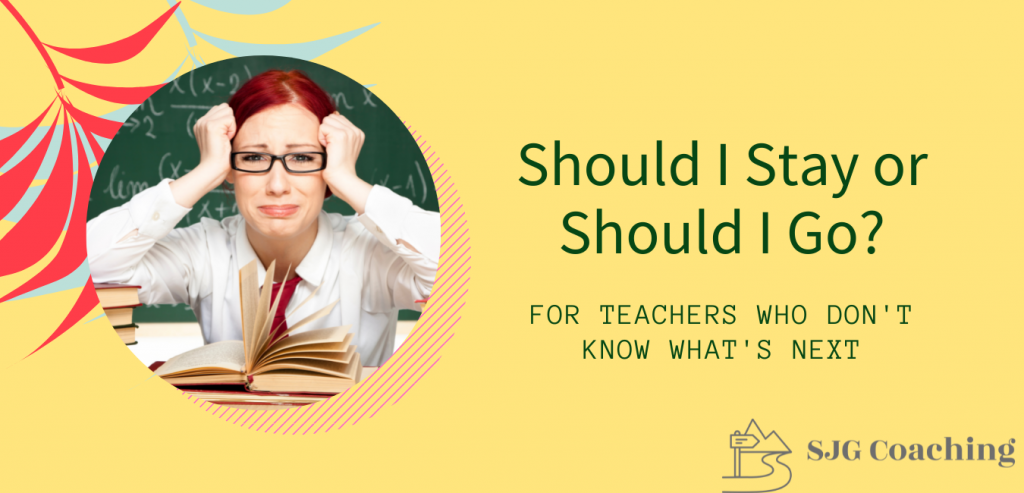 You became a teacher because you believed in education and its power to make a difference in young people's lives. But these days you wonder if teaching is really a sustainable as a career. You find yourself, wishing away term time, desperate for those precious holidays to come around again. And worst of all, you feel guilty about it. You'd love to make a decision about what to do next but there never seems to be time to actually do the thinking required to get there. Plus, frankly, it's scary. Sometimes it feels like you've lost sight of what you want for your life altogether, underneath a pile of marking, data and hand sanitiser!
How can Should I Stay or Should I Go help?
I understand, I've been there, in fact I've been there more than once and there absolutely is a way forward. That's why I designed Should I Stay or Should I Go, to help people like me and you decide exactly that!
Should I Stay or Should I Go is a guided group coaching course which will help you to:
Get back in touch with what you really want for the next stage of your life.
Imagine a future for yourself which is more aligned with your values.
Get clear on your strengths and skills.
Find out if there is a way to make the career which you always loved, one you can love again.
Or start to consider what other options there might be for your working life.
Connect with other people in the same situation in a supportive environment.
Feel hopeful and excited about what is coming next for you.
Testimonials
Maria, Teacher
I have been trying to navigate new circumstances in life and work my way through the challenges that this has presented. Siobhan, listened to my concerns and helped me focus on my values. She helped me see my strengths and skills and how I could use these in a new career journey. We worked out together the steps needed to achieve my goals and the key people I would need to rely on.
Siobhan's coaching has had a huge impact on my life and my confidence.
Manezza, Head of Department (Secondary)
Working with Siobhan has had a phenomenal impact on my life. Being given the time to think, reflect, speak and be honest with myself, my mindset, perception and output has completely changed. I am no longer anxious at work, I am able to see matters from a more balanced view and I am recognising my accomplishments! Siobhan's coaching style is encouraging, wise and nurturing and I would not have made this progress without her direction. Thank you, Siobhan!
What is included?
Unit 1
What are my core values?
Units 2 and 3
Visualising My Future
Career Walk
Units 3 and 4
Skills and Strengths
Pulling your plan together
Investment
£260
Plus a 10% discount on your next life coaching package with SJG Coaching, if you decide that you would like to explore further.
Who am I?
I'm Siobhan, a transformational life coach and former teacher and teacher educator. I have 23 years of experience working in education and I have been exactly where you are now so I know how hard it can feel. In my own career I first jumped off the middle management juggernaut and moved sideways into practice-based training work in school and then university. I then went the whole hog, took time out and retrained whilst teaching part time. I now coach full time both in school and privately. You can find more about my career and career change story here if you are interested.
'Should I Stay or Should I Go?' is based on a mixture of what worked for me and the many lessons I've learned since retraining as a coach.
Full disclosure, I'm not a career change mentor who will help design CVs, test your personality type or suggest ideas for future careers. I use a coaching approach, assuming that you are the expert on yourself and supporting you to discover what it is that you would love your next steps to look like.
Booking request form
Hello, excited to meet you! Fill in the form below and I'll be in touch with more information.