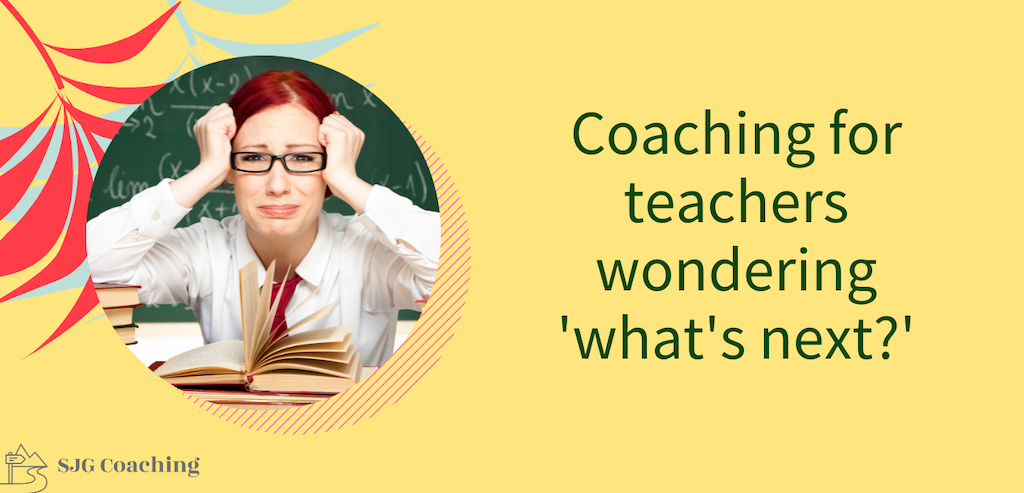 Why coaching?
You became a teacher because you believed in education and its power to make a difference in young people's lives, and you loved it! But recently you've been wondering 'what next?'
Maybe you're struggling to see teaching as sustainable from beneath a pile of marking, data entry and Ofsted preparation.
Perhaps you already know that you want to change career, but you just don't know what that change will be yet.
Or it could be that you're ready to take the next step in your teaching career but something is holding you back.
Trying to make big decisions when you are already working at capacity is an uphill battle. You haven't got the headspace in term time and in the holidays you want to rest and spend time with your family/partner/friends who complain they never see you. And then there's the guilt. If you leave/change role/work less, what about the students? What will people think?
Why me?
Yep, I've felt all of the above! 23 years of working in education first as a teacher and then a teacher educator left me in no doubt that teaching was a tough gig even before the pandemic. I also know that ploughing on regardless ends in burn out. I've been there and I won't be gaslighting you by suggesting that if you just change your mindset and manage your time more effectively, everything will be OK. You only have to look at online teacher forums or spend one day in a staffroom (if your school is lucky enough to still have one) to know that there are some very real systemic problems in education that are driving teachers out of the profession.
But that doesn't mean change is impossible or that things like mindset have no place in shaping the life you really want. My own story of change, which you can find in the video below, was gradual but ultimately life changing. And it involved being coached. The beauty of coaching is that it carves out time to think in a focussed way and allows you to finish all those unfinished thoughts so that you can:
• Feel hopeful and excited about what is coming next for you.
• Get back in touch with what you really want for the next stage of your life and career and start working towards it.
• Imagine a future for yourself which is more aligned with your values.
• Get clear on your strengths and skills.
• Find out if there is a way to make the career which you always loved, one you can love again.
• Or start to consider what other options there might be for your working life.
Full disclosure, I'm not a career change mentor who will help design CVs, test your personality type or suggest ideas for future careers. I use a coaching approach, assuming that you are the expert on yourself and supporting you to discover what it is that you would love your next steps to look like.
Teacher packages
Working with teachers is important to me so I keep my teacher rates lower than standard coaching rates. A teacher package is priced at £420 for 6 sessions, over 3 months.
If you think you might be interested then book a free introductory call here or contact me with any questions.
Testimonials
Steph, Deputy Head Teacher
I am so grateful for the sessions that I had with Siobhan. I can honestly say that years of ingrained perceptions, including those of myself, have been changed through our sessions and this has completely transformed my confidence in the areas that we targeted.
Having not come with a particular agenda or focus, our sessions started as a general overview of my life and ended in exploring a significant area of my life that I hadn't had the time, space or opportunity to explore before the sessions. This has led to me having the confidence to make decisions differently and confidently and has had a huge positive impact on me personally and professionally.
Siobhan was friendly, challenging and above all a fantastic listener who was able to make connections between thoughts that I didn't know existed, uncovering new areas to explore to move my thinking forward. Thanks Siobhan!
Maria, Teacher
I have been trying to navigate new circumstances in life and work my way through the challenges that this has presented. Siobhan listened to my concerns and helped me focus on my values. She helped me see my strengths and skills and how I could use these in a new career journey. We worked out together the steps needed to achieve my goals and the key people I would need to rely on.
Siobhan's coaching has had a huge impact on my life and my confidence.
Manezza, Head of Department (Secondary)
Working with Siobhan has had a phenomenal impact on my life. Being given the time to think, reflect, speak and be honest with myself mean that my mindset, perception and output has completely changed. I am no longer anxious at work; I am able to see matters from a more balanced view and I am recognising my accomplishments! Siobhan's coaching style is encouraging, wise and nurturing and I would not have made this progress without her direction. Thank you, Siobhan!